Surviving the post COVID-19 world of work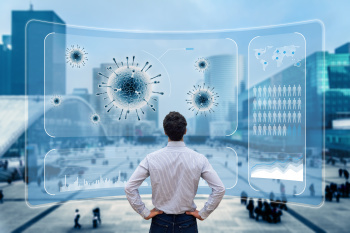 The immediate effects of the COVID-19 lockdown and other restrictions are obvious to both the business community and the general population.
Many people have lost their jobs, with especially SME business's struggling to survive. "Hibernation" is a nice word that has yet to prove itself in the real world of commerce.
Stay positive
This is easier said than done, but there is no alternative. History shows us that recessions come and GO.
Take care of yourself, your family and support your friends.
Get plenty of exercise, eat well and maintain regular sleeping patterns.
Most of all limit your exposure to the news and current affairs programs unless of course some good news is being announced.
Job hunting
At the time of writing this article, it is widely reported that online job sites have experienced a 60% reduction in job vacancies being listed on these type of websites. This probably also means a similar collapse in recruitment firms job listings.
The good news is that it is an accepted fact that around 70% of jobs are never advertised and that there are currently a number of sectors actively recruiting. So, whilst these figures are sobering it does not mean that there are no jobs available.
Carefully identify your transferable skills and the companies that would want them (this is more important than your resume).
If you are struggling engage professional assistance sooner rather than later.
Upgrade your skills
Don't get distracted by home life and other private issues. Your career matters and needs your attention now more than ever.
Identify gaps in your qualifications/tickets and complete online courses that give a certificate after completion. Ensure that they are relevant to your industry sector and enhance your value as a candidate.
Remember that you are going to compete against many other very well qualified and presented candidates.
Adjust to the new online world for working remotely and conducting meetings
The post COVID-19 world of work will be very different from your previous experience.
Online work will dominate many sectors and working from home will become the norm and not viewed as a perk.
Meetings, client interactions and the management of processes and data will all be conducted online so get used to working autonomously, plus real-time monitoring of your work activities by your employer.
Social media will continue to infiltrate our lives so a professional presentation on multiple platforms will be vital for any career-focused person.
Data is the gold of the 21st century so learn data analysis and research skills to keep ahead of the pack.
How to advance your career
Much has been set out in the above sections.
Virtual working with virtual hours will dominate your future so embrace these changes and demonstrate your current technology skills as well as the demonstrated ability to quickly adapt to new systems and methods (dinosaurs will fail).
Now is a great opportunity to invest in yourself and emerge a stronger and more versatile candidate.
Soft skills are critical to the post COVD-19 world of work. Polish your negotiation, people management, motivation and conflict resolution skills.
Unprecedented change and circumstances are being forced on us and there is no choice if you want to be an active player in the future workforce.

PUBLIC COMMENT
Comments posted below are PUBLIC, if you wish to make a private comment or query please use the form on our contact page.