Women Returning to the Workforce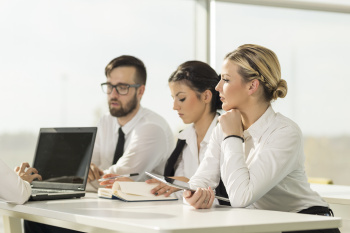 How a woman manages her return to the workforce can either make or break her career! That's unfair I hear you say, and you are right. However, that's the reality and any woman reentering the workforce needs to properly manage the process as this is the key to your career transition over the short and long terms.
After all, it is your job, career and future.
"IF YOU VALUE YOUR CAREER, YOU WILL VALUE OUR SERVICE"
Career advice based on RESEARCH...not chance!
---
Career development never ends and requires anyone to continually adapt and change to personal and workplace conditions.
Set out below are some basic guidelines to assist:
Prior to taking maternity leave
Clearly explain any special needs required up to the time that you leave work. These can be physical or otherwise and may well include flexible working options.
Develop a set of procedures for your expected return to work.
Throughout the maternity leave period
Keep in touch with your employer during your absence to show an ongoing interest in the enterprise and your ultimate resumption.
Keep relevant by maintaining your networks and completing ongoing normal professional development.
Return to work after a long absence
Be alert to any changes in the workforce and accept that you will need to upskill and complete relevant training and courses to be "work ready".
Consider what flexible work practices may be available to assist you in your return to work and facilitate settling into any new workplace environment.
Some women lose confidence during their maternity leave of absence and find it difficult to reassimilate both professionally and socially back into the workplace. Things change, and that can be daunting!
A lot of people tend to think, "I don't need help with my job search, I can land a job on my own." But the truth is, job search today is SO different than what people think it is.
It's not applying to every job you think you're qualified for and hope you get a call. It's not waiting on recruiters and hiring managers to reach out to you for opportunities. And, it's not settling for the first offer you get.
The days of having a passive job search strategy are over. Now, it's time for you to take control of your job search!
Try these tips:
1. Always act with a "can-do" attitude
2. Ensure that you are valuable to the business
3. Focus on your previous career accomplishments
4. Attend courses, lectures and seminars to improve your skills, knowledge and industry connections
As previously stated career development is an ongoing process, similar to your resume and LinkedIn profile it is always a work in progress. Career planning is vital for working women, as taking maternity leave or absence at a difficult time can be a career killer if not properly managed. Careful planning NOW and into the future is highly recommended career insurance.
Unlock your true career potential with ACMA's proven return to work program.
Get a better job faster with ACMA programs providing:
A structured program and proven career coaching system involving a completely different approach to job search and career development based on research and analysis
Help to get you totally clear on your career objective/pathway
Thorough preparation for the career transition or job search
Guidance (24/7) through proven job search methodologies/strategies including the latest Emotional Intelligence (EI), Rapid Pathway Molding (RPM), Narrative Therapy (NT), Cognitive Information Processing (CIP) & Prior Learning Assessment Recognition (PLAR) techniques
Profile differentiating your unique qualities and skills from others; with a complete portfolio of "self-marketing" techniques, tools and methods
Evidence-based assistance to land you the RIGHT job sooner, with maximum remuneration
Development of a long-term plan for ongoing career management including retraining and/or upskilling options
Personalised support through the challenging or discouraging moments, including salary negotiation
Coaching (24/7) through all stages such as networking, interviewing, negotiating, psychometric testing, finding hidden jobs and more...
Highly effective tools and resources needed for career transition success (now and into the future), plus developing your all-important online digital and social media profiles
Learn how to recession-proof your career for the long term
Be personally case managed by Australia's leading career management consultant
---
ACMA creates successful career-paths through detailed individual assessment, research and job market analysis, combined with expert personalised coaching.
Note: A Career Development Association of Australia research paper found that when professional career guidance occurred that the participant was 2.67 times more likely to secure a job.
All program services can be delivered via our interactive online cloud-based career management "Career Talk" system and/or "one-on-one" in our Sydney, Brisbane, Perth, Adelaide, Canberra, Melbourne, Cairns, Darwin or Auckland offices.
RING 1800 245 380 now to book a FREE consultation