Interview Coaching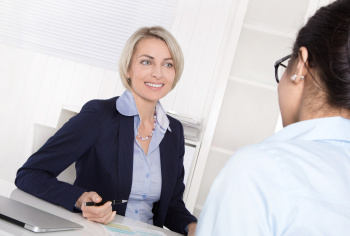 Interview preparation and coaching, including detailed assistance with behavioural interviews, personal presentation, body language and robots.
"IF YOU VALUE YOUR CAREER, YOU WILL VALUE OUR SERVICE"
Interview coaching based on RESEARCH...not chance!
---
One-on-one interview training involving "mock interviews", post-interview tactics and advanced strategies to win interviews in this highly competitive job market.
Learn responses to tough interview questions, how to articulate your value, tips to maintain a proper attitude, and appropriate follow-up strategies to get more offers!
Interview coaching will assist you in relieving anxiety and learning easy ways to help you prepare. Even if you are an experienced interviewee, there are always tactics to improve your presentation.
Detailed preparation for an interview is the key to success and being offered the position. The era of "winging it" belongs to the last century, as the methods and tactics employers and recruiters use today are complex and process-driven.
This is true for all levels of the workforce, ranging from graduates to CEOs and everything in between.
The 21st-century employment market has grown highly competitive and sophisticated. Inadequate knowledge and preparation can result in lost opportunities, frustration and rejection.
Do you freeze up at the prospect of going on a job interview? Do your hands get sweaty? Does your stomach get "tied in a knot?"
It's a fact that better interviews get better job offers! Yet most candidates show up for interviews unprepared! The key to "ace" the interview is to practice and be fully prepared!
Job interviews with a robot...what could possibly go wrong?
Do you know how to use a cheat sheet for online video interviews?
It is vital that you professionally prepare for a range of interview formats, such as:
Face to face
Traditional
Behavioural
Situational
Stress
Panel
Assessment Centres
Graduate
Group
Scenario-Based
Robot interviews
Public Service (all levels)
Telephone
Skype/Zoom/Microsoft Teams
Online digital/video
Case
Lominger
Technical Based
Values-Based
STAR Method
Gamified
Game-Based Assessment (GBA)
e-R&S
30/60/90 Day Plans
Asynchronous Interviews
Senior Executive
Board level
Internship
ACMA has developed an intensive interview preparation program that offers people (throughout Australia/NZ) the opportunity to work 1 on 1 with a qualified career management consultant to ensure they are professionally ready for their next interview (whatever format is used).
We are geared to respond quickly to client needs and will even work with clients overnight or on weekends if necessary.
To help people present as a "top quality candidate", we work within the following structure:
Immediately review all your job application documents, the original advertisement and/or position description
Set initial preparatory tasks
Investigate the job and industry sector to get a thorough understanding of the job opportunity
Develop a set of "highly likely" questions (and answers) that may be asked
Assist with detailed written preparation for these questions
Conduct 1 on 1 "Mock Interview" (with a video copy of each session)
Coach interview relaxation tips
Manage anxiety and interview nerves
Voice control and personal presentation training
Build confidence and knowledge through specific interview training
Develop skills to present your career stories in a clear and compelling manner (to impress any interviewer immediately)
All levels of private and public sector interviews covered
Post-interview review and strategy development
Assistance with salary negotiation
Plus, much more...
Unlimited interview preparations with no time limitations are automatically included.
"Learn lifelong interview preparation skills and techniques, plus the many tricks recruiters don't want you to know".
Interview tip: Candidates who are relaxed and able to answer questions such as, 'How are you?' in a calm, enthusiastic way will be perceived as 'fitting in'.
Recent client feedback:
"The five questions we did in the mock interview were all asked by the panel…so well done for your mock questions (design)"
"I highly recommend ACMA for their interview and networking skills training"
"I followed the interview preparation notes and can seriously say I have never been so confident during an interview"
"I am certainly presenting much better and conveying my abilities much better...thanks to your coaching"
"The questions we practised were what I was asked in the interview...so my preparation helped"
"Thank you very much for the wonderful interview training exercise and very important points, which I am taking on board"
"I was able to answer all the questions coherently and concisely...your mock questions were very helpful"
"I would like to thank you for your advice and support in performing my interview skills"
"Thank you for helping me prepare for an interview. It went really well. The practice questions which you have listed really helped a lot"
"Thank you! Your advice, as well as the mock interviews, really helped! I really appreciate that..."
"You have profound knowledge regarding interview skills, potential interview questions and critical mindsets towards any interview"
"The questions they asked were the same as my mock interview"
"I now feel like I can hold my own in an interview. I even answered the question about my weaknesses with a positive spin"
"I cracked it and got a Government job offer. Thanks for all of your help"
"I got the job. Woohoo! The principal said the interview follow-up letter confirmed my professionalism"
"They asked behavioural questions very similar to the questions you asked during practice"
"If you want to hone your interview preparation skills, I can't recommend ACMA enough"
"I just finished the interview. They asked me six questions, and all were on your List. Thank you!"
"My interview went well. Thank you for your help"
"Thank you for your training and advice. It really assisted in getting this role"
Benefits of mock interviews: Mock interviews offer at least five key benefits:
An opportunity to practice questions with which you struggle.
An opportunity to practice answering behavioural interview questions.
An opportunity to boost your overall confidence.
An opportunity to practice your interview soft skills.
An opportunity to receive candid feedback to help you improve your skills.
Gain immediate access to Australia's leading interactive online career management system (including Tablet and Smartphone), plus flexible, interactive online coaching/support that suits your location and schedule, with unlimited 24/7 hotline access to Australia's leading specialist career management consultants (with post-graduate qualifications in career guidance management).
Personalised interview coaching will assist you to perform at your best every time to be the "most outstanding candidate".
"Displaying enthusiasm and confidence in an interview situation can often help candidates to beat the more qualified competition with stronger technical skills."
Got an interview tomorrow? Call us now on 1800 245 380, and we will help prepare you overnight...including a "mock interview"! (7 days a week)
---
ACMA creates successful career paths through detailed individual assessment, research, job market analysis, and expert personalised coaching.
Note: A Career Development Association of Australia research paper found that when professional career guidance occurred, the participant was 2.67 times more likely to secure a job.
ll program services can be delivered via our interactive online cloud-based career management "Career Talk" system and/or "one-on-one" in our Sydney, Brisbane, Perth, Adelaide, Canberra, Melbourne, Cairns, Darwin or Auckland offices.
Read more information on career change
RING 1800 245 380 now to book a FREE consultation