Job interviews just got "spookier"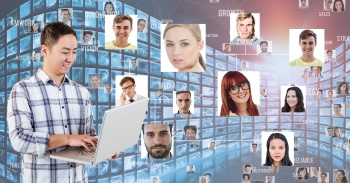 Just as people were getting used to video interviews the next stage will unnerve most job seekers.
Video interview intelligence allows recruiters to screen multiple candidates at once by recorded answers to interview questions (at the candidate's convenience).
Then the AI kicks in by using voice and facial recognition software that allows employers to compare the performance of all applicants by word choice, voice tone and facial expressions…and then selects the most suitable people to advance to second interview stage.
All of this is conducted without any human involvement by the recruiter. Algorithm's manage the whole process and make final decisions on people's career futures.
Your whole being is evaluated and judged by a machine. If you don't like this process, don't apply is the attitude.
The extrovert wins, the nervous and the introvert fails!
Bad luck mature age, migrants/newcomers or disability candidates...algorithm's cannot eliminate bias.
Intensive interview coaching and preparation has never been more important to achieve your career goals.

PUBLIC COMMENT
Comments posted below are PUBLIC, if you wish to make a private comment or query please use the form on our contact page.