Mature Age Workers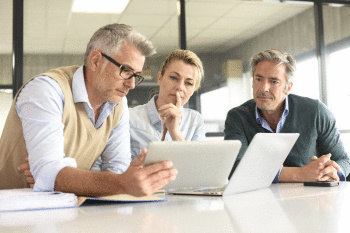 The second decade of the 21st Century presents enormous challenges to people 45 years and older. An amazing range of workplace changes has occurred over the last twenty years which can be very confronting to a person wanting to obtain a position in today's complex employment market.
Mature age workers are often "thrown out" onto the employment market through no choice of their own after having worked for one company or in one industry for many years…enforced workplace change is common due to corporate restructuring, downsizing, economic changes, business failure or re-entering the workforce after periods parenting or caring duties.
Whatever the catalyst mature age workers suddenly find themselves in a world of work that is drastically different to the one they entered many years previously and commonly suffer from what is called the "Rip Van Winkle Syndrome"...refer this article http://bit.ly/1lQ5Ken
This lack of knowledge or understanding of the 21st Century employment market application procedures and protocols is the main barrier for these displaced mature age workers that fail to move into valued employment opportunities. The fact is that the employment market is now sophisticated and complex and failure to adapt and learn can mean years of either underemployment or unemployment, wasting the remaining productive years.
It needs to be acknowledged that "Ageism" discrimination does exist at certain levels, however, there are many organisations that now actively pursue mature aged workers, and with mounting skills shortages mature aged workers are needed to contribute into their late 60's and beyond.
The main reason mature age workers fail to obtain suitable employment is their inability or refusal to change, learn and adapt to the modern world of work. The result is that they become disenfranchised from the employment market, suffer personal and financial stress which in most cases is avoidable.
ACMA has worked with mature aged people for many years and continue to observe the same mindset and mistakes being repeated until an intervention occurs…often initiated by a concerned partner or friend.
Mature age workers cannot change the world as it exists NOW! They can only control their own vision of the world, adapt and grow…the other option is to stagnate and waste your opportunities.
The good news is that there are now numerous education and retraining opportunities available to mature age people, with many being delivered conveniently online at your own pace. Rightly or wrongly your employability will often depend solely on having the appropriate qualifications (tickets).
Those who embrace change, tackle new technologies, systems and methods will find gratifying work.
This is not easy! However with the careful ACMA support and coaching any reasonable person can thrive into their later years actively contributing to society and their own welfare.
THE CHALLENGE IS YOURS!
"Success is how high you bounce when you hit the bottom". - General George Patton
---
ACMA creates successful career paths through detailed individual assessment, research and job market analysis, combined with expert personalised coaching.
Note: A Career Development Association of Australia research paper found that when professional career guidance occurred that the participant was 2.67 times more likely to secure a job.
All program services can be delivered via our interactive online cloud-based career management "Career Talk" system and/or "one-on-one" in our Sydney, Brisbane, Perth, Adelaide, Canberra, Melbourne, Cairns or Auckland offices.