Maternity leave career management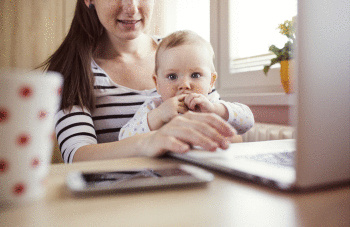 How a person manages their maternity leave can either make or break her career!
That's unfair I hear you say, and you are right. However, that's the reality and any woman going on maternity leave needs to personally initiate actions and certainly not leave it to your employer or HR department. After all, it is your job, career and future.
A new addition to the family means significant changes in both your home and work life. Properly managing these changes is the key to your career transition over the short and long terms.
Career development never ends and requires anyone to continually adapt and change to personal and workplace conditions.
Set out below are some basic guidelines to assist and covers three important stages:
1. Prior to taking maternity leave
Clearly explain any special needs required up to the time that you leave work. These can be physical or otherwise and may well include flexible working options.
Develop a set of procedures for your expected return to work.
2. Throughout the maternity leave period
Keep in touch with your employer during your absence to show an ongoing interest in the enterprise and your ultimate resumption.
Keep relevant by maintaining your networks and completing ongoing normal professional development.
3. Return to work
Discuss your return to work date and specific needs for work-life integration. Be alert to any changes in the role that you left, and how the employer will manage and upskill you.
Consider what flexible work practices can be developed to assist you in your work return, plus new life responsibilities.
It's all about good communication…
Some women lose confidence during their maternity leave and find it difficult to reassimilate both professionally and socially back into the workplace. Things change, and that can be daunting!
Try these tips:
1. Always act with a "can-do" attitude
2. Ensure that you are valuable to the business
3. Focus on your pre-maternity leave career accomplishments
4. Attend courses, lectures and seminars to improve your skills, knowledge and industry connections
As previously stated career development is an ongoing process, similar to your resume and LinkedIn profile it is always a work in progress. Career planning is vital for working women, as taking maternity leave at a difficult time and can be a career killer if not properly managed. Careful planning NOW and into the future is highly recommended for career insurance.
Maternity leave can also be a blessing in disguise and a time for many women to reflect on their values and priorities. Some discover that they are better out of the workforce at this stage in their life, and that is an entirely valid option.
"Maternity leave and parental leave is absolutely vital for strengthening families. It's an issue for men and women." - Quentin Bryce
---
ACMA creates successful career paths through detailed individual assessment, research and job market analysis, combined with expert personalised coaching.
Note: A Career Development Association of Australia research paper found that when professional career guidance occurred that the participant was 2.67 times more likely to secure a job.
All program services can be delivered via our interactive online cloud-based career management "Career Talk" system and/or "one-on-one" in our Sydney, Brisbane, Perth, Adelaide, Canberra, Melbourne, Cairns or Auckland offices.