Negative thinking begone!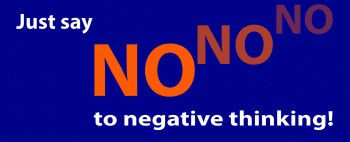 For over twenty-four years, I have assisted thousands of clients in developing their careers and lives.
Numerous issues become potential barriers to people and most are minor and are easily solved. However, the significant and recurring barrier is NEGATIVE THINKING… highly destructive and unnecessary self-sabotage.
Looking for work and developing your career is usually a confronting and complex task for which 99% of people are totally unprepared and unskilled to tackle.
Remember when you had your first driving lesson and then gradually progressed to a licenced driver…you worked at gaining the required skill set to drive a car on the road. Being coached to job search and develop your career requires the same attention to detail, practice, learning and persistence.
Negative thinking can manifest itself in your body language, speech and personal presentation and can be an immediate flashing red light to a potential employer.
People can be so hard on themselves such as:
"I am hopeless at interviews because I didn't get the job."
"My resume is not up to standard."
"I am worthless; so why would an employer want me."
"Everyone is more experienced and qualified than me."
"There are no jobs around so why would I bother."
Everyone has talents and attributes to offer. Focus on these and what is great about you.
Work with a career coach as you did with your driving instructor. Job searching and interviews are all learned skills that have nothing to do with your qualifications or technical skills.
Just because job searching is tough is not a reason to become dejected. In fact, it should be empowering as you are being forced to learn new skills that will be of enduring benefit for the rest of your career. Rejection and disappointment are an unavoidable part of any career journey (it mimics life).
Instant answers and solutions are not part of a job search so prepare yourself for a long ride and only focus on the destination.
Throw away your negative thoughts and replace them with job search tactics, plans and lots of action.
Don't ponder on what is not right, just put your mind to becoming more employable and valuable via new qualifications, expanding personal connections and always being proactive.
Never be a victim; always be a participant!
Often people attempt to live their lives backwards...you must first be who you really are then do what you need to do in order to have what you want." - Margaret Young
---
ACMA creates successful career paths through detailed individual assessment, research and job market analysis, combined with expert personalised coaching.
Note: A Career Development Association of Australia research paper found that when professional career guidance occurred that the participant was 2.67 times more likely to secure a job.
All program services can be delivered via our interactive online cloud-based career management "Career Talk" system and/or "one-on-one" in our Sydney, Brisbane, Perth, Adelaide, Canberra, Melbourne, Cairns or Auckland offices.