Interview preparation basics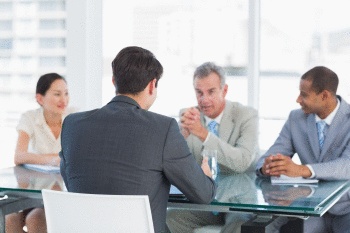 Preparing for an interview is like running in a marathon...you would not even think about entering unless you had done the necessary training, so follow these basic steps:
1. Research the company. Make sure that it is a company that you will want to work for
2. Use your Resume as a marketing brochure - Learn your selling points off by heart and be able to relate them specifically to "any" job requirements
3. Draft a list of "agenda of points" that you want to make during the interview
4. Practice your "one minute responses" to ensure maximum impact and a "close off", of the topic. You must not allow an interviewer to dwell on a point as it reduces the time available to sell yourself
5. Ensure that you are talking 60% of the time. If the interviewer does most of the talking, then you have nothing to lose by interjecting when they take a breath
6. Make sure that all your responses to negative or hard to understand questions about yourself are "positive". If you can't, make sure any negatives have been turned into strengths by personal development
7. In every response you must demonstrate that you are "willing", "able" and "manageable"
8. Start your preparation by:
familiarising yourself again with the work of the organisation and the services it provides together with any other issues significant to it
read the organisations recent annual reports and any other publications of relevance, especially their website
examine the duty statement and other information available to gain an appreciation of the tasks and responsibilities of the position
research the interviewer on LinkedIn to see how you can quickly build rapport
9. Be prepared to answer questions about:
the reasons you applied for the position
any inquires you made about the position
knowledge and understanding you have of the duties and responsibilities
experience you have had and how it relates to the position
qualifications, both formal and informal
your career aspirations and how they fit in with the organisation
how you see yourself carrying out the duties of the position
the contribution you believe you could make to the organisation's endeavours
initiatives you have taken in the past
position related to community and leisure interests
10. You might ask questions about:
what you will be doing and with whom you would work
what training facilities are available and study required
future career paths and prospects within the organisation
any special projects you have heard about
the effect of change within the organisation
11. Have some additional information about yourself to give to the interviewer/panel when the opportunity arises:
anticipated study
other skills that you have
relevant special interests
your career objectives
"By failing to prepare, you are preparing to fail".- Benjamin Franklin
Contact us for intensive interview training
---
ACMA creates successful career paths through detailed individual assessment, research and job market analysis, combined with expert personalised coaching.
Note: A Career Development Association of Australia research paper found that when professional career guidance occurred that the participant was 2.67 times more likely to secure a job.
All program services can be delivered via our interactive online cloud-based career management "Career Talk" system and/or "one-on-one" in our Sydney, Brisbane, Perth, Adelaide, Canberra, Melbourne, Cairns or Auckland offices.