Persistence in career development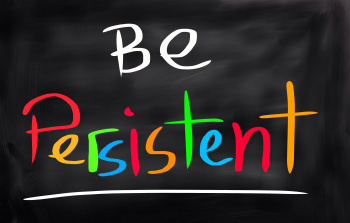 Careers are for life and the lifeblood of careers is persistence!
Careers are a part of everyone's life journey, just like eating and drinking your career is vital to your well being.
Turn your job into a career or get another job that you can love and grow into. Persistence is the underlying theme of career development...its a long journey so persistence is a vital ingredient.
Planning ahead to achieve your career goals and the careful application of your career plan requires persistence...not everything goes right the first time.
Persistence means modifying your career plan as circumstances change and insight is gained. Persistence means obtaining additional qualifications, adapting, joining professional bodies and networking. Persistence means getting up early the morning after you have been retrenched and starting your job search.
Persistent people win not necessarily because they are winners, its because they are persistent.
As a career counsellor for many years I have observed two types of people... non-persistent and you guessed it persistent.
This is valuable knowledge that I share with you...the choice is yours.
Let ACMA assist you to develop your career to the max!

PUBLIC COMMENT
Comments posted below are PUBLIC, if you wish to make a private comment or query please use the form on our contact page.