Graduate job seekers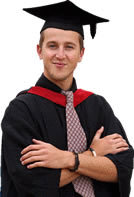 Many graduates are under prepared to transition into the workforce, and this can quickly translate into frustration and worst of all never actually using their university qualifications that they have worked so hard to obtain.
Graduates should start planning at least one year prior to graduation and seek professional assistance in order to avoid the predictable traps that numerous graduates fall into.
Employers are often unsympathetic to graduates and consider that unless they are work ready they will not employ them (need to have previous experience). These issues can be avoided with proper planning, coaching and at least 12 months preparation...the longer the better.
Just like any other workforce participant, career planning and initiatives should be viewed over 2, 3 and 5 year time spans.

PUBLIC COMMENT
Comments posted below are PUBLIC, if you wish to make a private comment or query please use the form on our contact page.