Get better interviews and job offers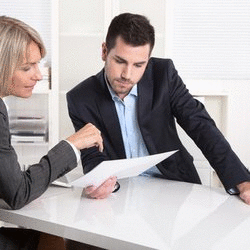 The formula is simple JOB OFFER=PPP+MI...
Preparation, preparation, preparation, plus a mock interview will lead successful candidates to a job offer.
The single (recurring reason) for people not performing well at an interview is "lack of professional preparation".
Detailed preparation for any interview is the key to success and being offered the position. The era of "winging it" belongs to the last century as the methods and tactics employers and recruiters use today are both complex and process driven.
This is true for all levels of the workforce ranging from graduates to CEO's, and everything in between.
The 21st century employment market has grown highly competitive and sophisticated. Inadequate knowledge and preparation can result in lost opportunities, frustration and rejection.
ACMA Interview coaching is your key to success! Learn how to answer difficult interview questions, how to clearly demonstrate your value, tips to project a positive attitude, plus follow-up strategies to get more offers!

PUBLIC COMMENT
Comments posted below are PUBLIC, if you wish to make a private comment or query please use the form on our contact page.